Life Science Industries




Complying With FDA Regulations




Using CMMS Software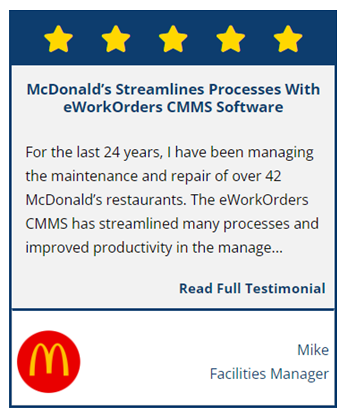 Life science industries such as pharmaceuticals, drug makers, medical device manufacturers, biotech companies, biologics developers, food and beverage processing, botanicals, and biochemical are all required to adhere to strict guidelines, submit to detailed audits and comply with stringent regulations. Accurate and detailed maintenance records are imperative to ensure compliance with regulations and meet FDA standards, such as 21 CFR Part 11. Companies are looking for a system that will help them manage all of their data as well as help them meet compliance regulations, yet is affordable and easy to use. A Computerized Maintenance Management System (CMMS) software solution provides the tools to help manage and control processes, including audits, audit trails, electronic signatures, document management and more.
CMMS Software Helps Organizations Prepare for Inspections and Audits
Title 21 CFR Part 11 is the part of Title 21 of the Code of Federal Regulations that establishes the United States Food and Drug Administration (FDA) regulations on electronic records and electronic signatures. 21 CFR Part 11 is just one of the regulations that companies in the life sciences industry have to follow. Using a CMMS software solution helps companies and organizations easily and cost-effectively comply with federal codes and regulations. With CMMS software, companies can electronically store and track detailed data; maintenance processes and procedure documents; assets; and more.
How Does CMMS Software Help with Compliance Regulations?
Being able to track and maintain accurate documents and records are the tools needed to help meet compliance requirements. CMMS software helps maintain electronic records and provides:
• Complete audit trail of any changes to work orders and records in the system.
• Documentation of processes and procedures. Users have the ability to attach documents to work orders, including diagrams, manuals, part orders, safety processes and more.
• Managing and maintaining assets. All of the data associated with an asset are electronically stored and retained in one centralized location that is accessible from anywhere, anytime by anyone (special permissions can also be set).
• Preventive maintenance scheduling and documentation. Preserving preventive maintenance schedules and the history of equipment repairs shows auditors that all have been maintained properly and meet safety standards.
• CMMS software provides login control with user-defined permissions and access.
• With electronic signature capture, organizations can set up special sign-off permissions to verify that work was completed satisfactorily.
• Report generation provides the tools necessary to assemble the data you have been collecting within your CMMS and transform it into reports that are meaningful to you and others in your organization. This documentation gives auditors and inspectors the necessary information regarding assets, processes, and procedures that demonstrate regulatory compliance.
Having the right tools to streamline and improve processes is the key to helping you toward meeting your audit and regulation goals. Mostly because the FDA has chosen to use "its discretion" on enforcement of its rules, there is no fully certified 21 CFR Part 11 compliant software available today. However, having the right tools, such as CMMS software will help drive continuous improvement, ensure accurate information, and support the documentation of processes, making passing inspections and improving work environment safety a whole lot easier.
Want to know more about how CMMS can help you in the Life Science Industry? 
CONTACT US FOR A FREE DEMO
YOUR SUCCESS IS OUR GOAL!