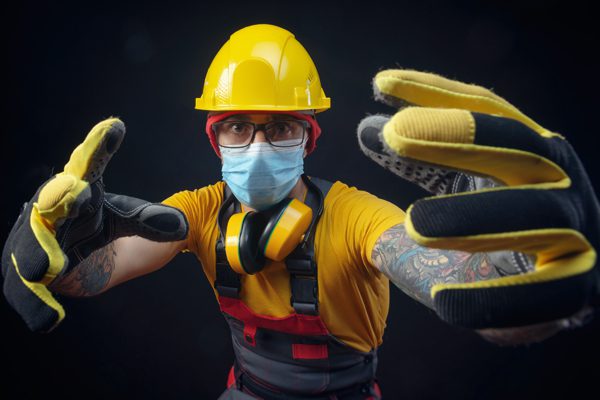 As businesses begin to stabilize and COVID-19-related healthcare and demand decreases, it is important to put new processes in place and try to get back to some type of normal. In addition to trying to keep up with the routine and the backlog of tasks, there will be significant increases in equipment maintenance and facilities sterilization. Facilities/Plant Operations will need to manage the increase in requests for space alterations, air quality management, area cleaning and sanitation, and parts and materials. Most teams will see increases in necessary Preventative Maintenance (PM) for equipment and assets.
It is important to have all your work requests and maintenance processes documented in a computerized maintenance management system (CMMS) so that information is easy to retrieve, analyze and report on for the anticipated increase in inspections and meeting new regulations.  A CMMS provides you with the tools to ensure more efficient maintenance management from anywhere, despite any health constraints or unexpected disruption in business operations.
CMMS Helps Businesses Recover From Disasters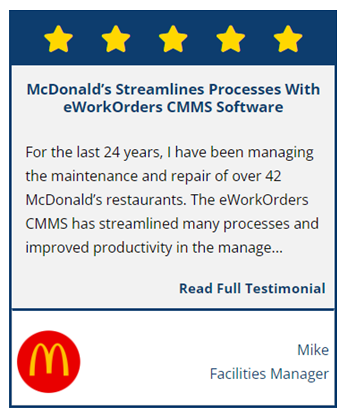 Whether you are going through a shutdown due to the COVID, or equipment breakdowns, these issues can cost a business a lot of time and money.  Under normal operations, a good maintenance plan in place provides for better management and control of resources and scheduling.  A good preventive maintenance plan ensures that equipment breakdowns and business operations will be at a minimum. The COVID Pandemic has been one of the biggest catastrophes that ever hit this world.  With the shutdown of plant operations, they must restart their production processes as quickly as possible.  Where do you start? 
The first step is assessing the equipment and assets to ensure that they are all in good running condition.

Setting schedules for machine maintenance.

Evaluating resources and work schedules.

Checking parts inventory to make sure that critical parts are in stock.
How are you going to manage all of this, plus your daily routines?  A CMMS is a powerful maintenance system that can manage all these tasks and more. 
Service Requests

Work Orders

Assets

Preventive/Planned Maintenance Tasks

Inventory Levels

And more all from a computer, smartphone, or mobile device.
A CMMS provides real-time alerts and notifications to keep your maintenance teams informed, organized, and on schedule to keep businesses operating through any disaster.
CMMS Important Tools for Sanitization and Health Safety
This pandemic has caused businesses to put in strict guidelines and additional inspections to ensure the safety of their employees.  These guidelines may include more procedures for social distancing, mandated cleaning and sanitization policies, and safety protocols.  Also, state and local governmental requirements are now putting in more extensive guidelines that must be followed. Storing all your information in a CMMS gives users the ability to document all these processes and be able to run reports with real-time information for inspections and audits
Organizing Work Orders and Tasks
With social distancing and a reduced/redeployed workforce have all contributed to the daily stress of keeping your business operating as normal as possible.  A CMMS helps automate processes to help streamline maintenance operations and keep things moving in the worst of times.
Manage, prioritize, and routing work orders to the right staff – no matter where they are working. 

Customize checklists to ensure that everything has been identified and completed.

Provide automatic alerts and notifications to technical teams.

Set up appropriate sign-offs to ensure that work has been completed every step of the way. 
Inventory Control
Until manufacturers get back up to running at full capacity, managing spare parts inventory has now become critical.  With a CMMS when a tech closes out a work order and parts and materials are removed from a shelf, the software adjusts inventory levels in real-time.  And when the inventory level goes below a customizable minimum level on any part or material, the software helps you restock by automating part of the purchase order process.
The Go Anywhere Maintenance Software
Prior to the COVID-19 pandemic, most organizations already had some type of contingency plan in place, due to power outages.  But no one was ready for the changes that COVID-19 brought to the world.  No one anticipated or were even ready to have their employees work remotely.  CMMS Mobile gives users the flexibility to access and manage maintenance data securely from anywhere. 
Reports and Measurements of Success
With all these new tasks, responsibilities, and regulations, and everyone working remotely, you need a way to manage and analyze the data to make better business decisions.  The extensive reporting and dashboard features of a CMMS gives users the ability to better understand what is working and gather more insight on what can be improved to increase efficiency and reduce costs.
The Power Of CMMS
With the severe outbreak of COVID-19 companies need to protect their employees, keep environments safe, keep equipment running at peak performance, ensure that everything is documented for inspections, make sure inventory is well stocked and the bottom line is that companies need to work smarter and be prepared.  Having the right CMMS software in place is the key to keeping your maintenance operations working through any disaster.   eWorkOrders is an industry leader in CMMS software technology, we provide organizations with high-quality tools to help streamline processes, improved productivity, keep you connected with your team and your business operating more efficiently. Your family and employees are the most valuable assets that you have.  Your business is the second most valuable asset.  Implementing a CMMS system helps businesses take control of their maintenance operations and unleash the power of the system to enable you to manage your business operations from anywhere through any disaster. Speak with one of our Account Managers today:  888-333-4617.