Maintenance teams face a lot of challenges every day from equipment breakdowns, scheduling maintenance, managing spare parts inventory, managing and assigning work orders, scheduling resources, responding to emergencies and the list goes on. Having a Computerized Maintenance Management System (CMMS) in place provides maintenance teams with the most effective tools to help them manage their daily tasks and more.
How can CMMS help maintenance teams resolve some of their issues? Below are just a few of the issues that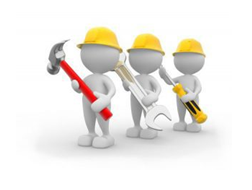 implementing a CMMS can help in the management of maintenance operations
1. Work Orders What is a Work Order? A work order is a formal request and documentation for maintenance, repair or operations work that needs to be done.  Using CMMS software to manage work orders provides additional information to technicians, checklists, access to documents, manuals, images and more.  Work Orders improve communications regarding the tasks that need to be performed. The Issues Resolved by Work Orders
Increase efficiency in the prioritization and management of work orders. CMMS software will let you create, track, edit, prioritize, and automatically communicate work orders to your technicians in real-time.  You'll be reducing the time it takes for your team to handle work orders and ensure that things are getting done.

Improve communications between managers and technicians. CMMS software stores and centralizes maintenance and asset data, documents and images and gives maintenance teams the ability to share information in real-time.  All of the data is stored in one location which helps eliminate lost information, reduces errors, ensures that procedures are followed and provides clear, concise information on what was done and what needs to be done.

Increase productivity. managing work orders with a CMMS.  Users can receive and create work orders, access repair history and important information from anywhere.  Using CMMS, technicians can respond to issues quickly and complete work orders faster.  Teams are working more efficiently which results in increased productivity.
2. Preventive Maintenance
What is Preventive Maintenance?
Preventive maintenance (or preventative maintenance) is routine maintenance performed on a piece of equipment to help keep it running at peak performance,  preventing any unplanned downtime and unexpected costs from unanticipated equipment failure.  Preventive maintenance is scheduled and performed while the equipment is still working to reduce unexpected breakdowns.
The Issues Resolved by Preventive Maintenance
Preventive maintenance scheduling. Preventive maintenance is why many maintenance managers shift from reactive maintenance to scheduled preventive maintenance plans. Setting up preventive maintenance schedules can be done during a timeframe that is convenient for business operations.  Regular preventive maintenance decreases downtime, prolongs equipment lifespan and ensures that equipment is running at peak performance.

Resource management control. When doing preventive maintenance scheduling, managers can easily schedule and allocate resources based on their specific criteria, such as availability, skill, accreditation training, etc.

Control and manage costs. Technicians or employees can log the number of hours they have worked on a project right in the work order.  One of the many reports that eWorkOrders provides gives managers information on employee response times, work completed times, labor and outsourcing costs, expenses, and more.

 
3. Enterprise Asset Management
What is Enterprise Asset Management?
Enterprise Asset Management (EAM) software helps businesses manage, organize, and track the lifecycle of physical assets across different facilities, departments, business units and geographical areas throughout the lifecycle of each asset.   
The Issues Resolved by Enterprise Asset Management
Prolonging the lifespan of equipment/assets. CMMS software automatically records all relevant data, giving managers an in-depth picture of their assets.  Along with machine maintenance and repairs, CMMS provides the related costs associated with each asset.  Having detailed information and costs helps maintenance teams make better decisions in planning for the future.

Preparing audit/compliance documentation.  One of the most critical processes is preparing for internal audits and being in compliance.  Documentation of maintenance tasks needs to be fully documented in order to pass strict regulations, audits and be compliant.  CMMS software stores, organizes and manages all relevant data to give essential detailed information on assets and performance.

Tight Budgets. Budgets are a challenge in every company.  Having eWorkOrders store your data, eliminates the need for you to purchase and hardware or software, or additional in-house IT support.  Our CMMS gives maintenance managers real-time access to reports of historical data including asset performance, labor cost, repairs, maintenance and replacements. This gives managers more control and more accurate information over managing costs, overtime, labor costs, and downtime.  Seeing spending trends gives managers a better understanding of their assets so that they can make better decisions on future purchases.
4. Spare Parts & Materials Inventory Management
What is Spare Parts & Materials Inventory Management?
Spare parts & materials inventory management is the strategic planning of having the right stock of critical parts available while keeping the cost of inventory parts and supplies at a minimum. Having the right parts in inventory reduces the time-consuming task of trying to locate hard to find parts, added shipping costs and equipment downtime. 
The Issues Resolved by Spare Parts & Materials Inventory
Maintain accurate inventory levels and control costs. CMMS spare parts and supplies inventory management software provides organizations with the tools to effectively manage inventory levels and costs.  With eWorkOrders CMMS you can set minimum and maximum inventory stock levels so that when the minimum quantity is reached a Purchase Order will automatically be generated and sent to vendors for replenishment.  Having the right inventory of parts and materials reduces downtime, increases productivity and eliminates the overstocking of high priced parts and materials.

Control of spare parts, materials and expenses. Managing your inventory through CMMS software gives you a better insight of the usage so that you can manage your inventory more efficiently. CMMS keeps track of vendor information, pricing, etc.   Using this information to purchase parts or materials at better discounts can save organizations a lot of money.  Managing parts/materials through CMMS:

Saves on resource time for tracking down hard to find parts/materials.

Minimizes downtime not having to wait for parts/materials.

Reduces the high costs and delays of waiting for "rush" shipments.

Saves on the expense of overstocking or having expensive parts/materials sitting on the shelf.
By analyzing CMMS data and understanding trends, users will make better business decisions on purchasing inventory, maintaining equipment, and managing vendors.  Keeping accurate supply records helps maintenance teams avoid both overstocking and out-of-stock conditions while improving overall operations and budget expectations.
Locating parts/materials from anywhere. A CMMS is a centralized cloud-based maintenance management system that is accessible from any computer or mobile device from anywhere at any time.  No matter where your inventory is located, users can access information easily through their CMMS.  Information is updated in real-time, so there is no guessing about whether parts or materials are in stock or where they are located.

 
5. Mobile Access
What is CMMS Mobile Access?
eWorkOrders CMMS software provides simple, online tools to create, update, track and complete all of the maintenance tasks that come through your department. The mobile version works on any brand of Smartphone or tablet. You can scan barcodes, click or search to retrieve asset details and work order history. You will be able to access inventory, spot buys, view, open, and close your work orders, track your time, or search through all the work orders, all in real-time.
 The Issues Resolved by CMMS Mobile Access
Real-time information. Technicians can receive and send all the information they need about a work order in real-time. They can edit tasks, attach images and documents, view work orders, access documents and manuals and more, no matter where they are.  Having work orders and information updated in real-time with access from anywhere improves collaboration and efficiency between managers and technicians.

Improved response time. With CMMS mobile, managers can create, prioritize and dispatch work orders in real-time and notify technicians when they are on-the-go. Technicians in the field need instant access to asset data, manuals, inventory and work orders from the CMMS.  Using a Smartphone or mobile device, technicians are able to search work orders, enter the maintenance time on work orders, update or closeout work orders from anywhere. Using CMMS mobile saves travel time, improves the response time for work orders/tasks and keeps labors costs down.

Improve efficiency and reduce downtime. A CMMS reduces downtime by keeping technicians updated on repair history, which parts need to be replaced, which parts are in inventory, along with manuals and images.  Having access to this important information instantly improves work efficiency and gets the machine back into operations quickly. Having mobile access to a CMMS gives technicians easy access to all their tasks from their mobile device, which means work orders can be completed more efficiently, saving time and improving your ROI.
6. Dashboards, Reports and Measurements of Success
What is CMMS Dashboards, Reports and Measurements of Success?
eWorkOrders provides the essential reporting tools that give users the power to assemble the data they have been collecting within their CMMS and transform it into reports and dashboards that are essential for making good business decisions. 
The Issues Resolved by CMMS Dashboards, Reports and Measurements of Success
eWorkOrders CMMS offers a wide variety of reports that helps you to better understand what is working and gather insight on what can be improved to increase efficiency and reduce costs.

Quickly determine the completion rate of work orders and preventative maintenance tasks.  Easily view downtime instances from a high level.  Dashboards are configurable by you and your settings are retained between sessions so that you always see what is important to you quickly.

Incorporate KPI (key performance indicators) data into your dashboard, get a quick graphical view of important KPI information and measurement of success.  As an example, within CMMS you can a report on Mean Time Between Failure (MTBF), which reflects the amount of time elapsed between occurrences of asset failure, enabling maintenance staff to pinpoint problem assets.  Mean Time To Repair (MTTR), is the time it takes to run a repair after the occurrence of the failure.  Reporting KPI measurements such as these help maintenance managers spot potential trends leading to equipment breakdown and lags in production.
CMMS is a Successful Tool for Maintenance Operations
The above list is just some of the issues that maintenance teams face every day and how CMMS software can help resolve those issues.  eWorkOrders CMMS is a powerful and affordable tool to increase the efficiency of your maintenance operations while improving your bottom line.
.