The Value Of CMMS Document Management Software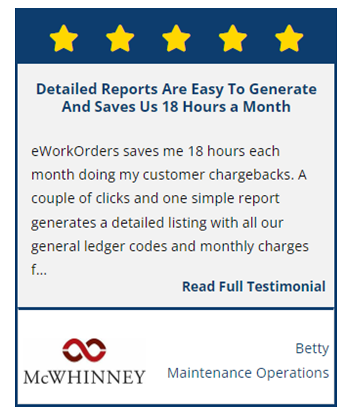 Keeping up with competitors in today's fast-paced environment can be challenging. Maintenance, Operations and Facilities Managers are all responsible for keeping and maintaining up-to-date and accurate information at all times. Keeping historical data on equipment, repair logs, manuals, inventory, regulatory files, etc., are cumbersome tasks further complicated by having to make that information available on demand. CMMS Document Management software is a centralized database that automates and streamlines that process. It gives organizations the ability to customize and securely manage workflows of their documents anytime from anywhere.
What is CMMS Document Management?
A CMMS document management solution is a feature-rich suite of applications that allows users to create, organize and manage work orders, store documents, schematics, forms, manuals, etc. and the ability to retrieve them from a computer or mobile device, all within a secured centralized system. Having everything located and accessible in a centralized and secure database speeds up workflow, improves accuracy and increases productivity.
CMMS Document Management Software Benefits
Some benefits of a CMMS document management solution include
• Centralizing Documents
Having your files and documents in a centralized location you can quickly and easily access, view, change, and share them all with your colleagues and clients anytime and anywhere from a computer or mobile device.
• Document Sharing\File\Retrieval
A CMMS document management solution gives users the ability to file, retrieve, and share documents such as work orders, repair logs, equipment manuals, schematics, inventory records, regulatory files, forms, etc. quickly, anytime and anywhere from a computer or mobile device. Through this automated software platform, users have current and accurate information in real-time.
• Improving Communications
A CMMS document management solution improves communications between internal teams, clients and vendors in a simple and secure environment. One centralized and secure storage location to manage tasks, content, approvals, and team communications.
• Mobility
Working in a fast-paced society, quick document access is critical. Modern document management systems need to be available on computers or mobile devices, so that files can be accessed anytime from anywhere in the world.
• Data Security Permissions and Protection
With a full suite of administrative controls, you can set permissions to ensure that only authorized users are allowed to open, view, and make changes to specific files and documents. Documents and files also are protected from disasters, fires and floods because they are safely stored and backed-up in accord with modern Disaster Recovery processes and Cloud technology.
• Regulatory Compliance 
A CMMS document management solution is a powerful tool that can be used to manage audit trails, implement security, and perform "backups" to ensure Government, Industry and Financial regulatory compliance.
What Can A CMMS Document Management Software Solution Do for You?
A CMMS Document Management solution provides you with more than the above benefits. This powerful document management system is scalable, flexible with respect to various file and media types, complements your value chain, and modernizes your logistics processes. Implementing a CMMS document management solution can make a big improvement in the way you run your business and the way that your teams handle important documents.
Want to know more about how CMMS Document Management can help your organization?
CONTACT US FOR A FREE DEMO!
YOUR SUCCESS IS OUR GOAL!