Benefits of a Computerized Maintenance Management System (CMMS)




In the Oil and Gas Industry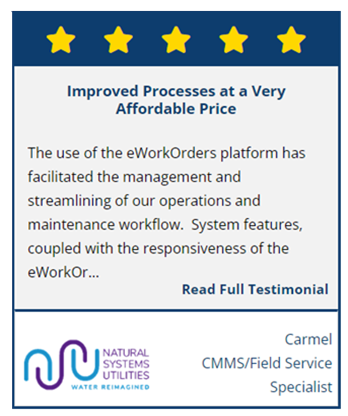 The Oil and Gas Industry faces many complex and demanding challenges. From a consumer perspective, oil and gas provide the world's population with a majority of their daily energy needs, such as transportation, cooking, heating and cooling, and the generation of electricity. Oil and gas raw materials are used to manufacture fertilizers, fabrics, synthetic rubber and plastics that really are part of our environment and everything we use to live comfortably. On a much larger scale, oil and gas represent global commerce. Every day, oil and gas are exported and imported worldwide. World-class oil and gas suppliers keep their operations running smoothly by using information that is relevant, precise, and timely. They use a computerized maintenance management system (CMMS) to help organize their refineries, eliminate a large majority of unscheduled equipment repairs, improve productivity, help meet safety and regulatory standards, reduce costs, as well as to respond rapidly and fully to emergencies.
What Does a CMMS do?
A CMMS solution captures every maintenance detail from anywhere and stores it in a centralized, secure database. Information is accessed easily by multiple, concurrent users from any computer or mobile device and is used in the prevention of unplanned downtime and other threats to optimal production. Processes and tasks are streamlined. Access to historical data and critical documents, as well as real-time updates on work order repairs, provide users the ability to have everything in one centralized, easy to access, secure location.
Benefits of a CMMS
Work Order Management
In addition to creating work orders on demand, work order modules have organized sections for users to easily view and generate lists and details of all open work orders and assignments, including task interdependencies, parent-child equipment repair relationships, work order reassignments, etc. This inter-reliant reporting functionality is vital to the Oil and Gas Industry as well as to most modern infrastructure businesses. With a CMMS solution, you instantly view service requests, information for preventative maintenance planning, and maintenance and repair work history.
Preventive and Planned Maintenance (PM)
A Preventive Maintenance (PM) Program maximizes your assets. By maintaining plant and equipment on a regular scheduled basis, breakdowns and equipment failures are reduced or eliminated. Unplanned interruptions adversely affect production goals and commitments leading to damaged reputations as well as unforeseen costly repairs. A CMMS solution includes a powerful, easy to use Preventive Maintenance software application that provides the tools to help manage and protect assets. The Preventive Maintenance program can also easily be used to schedule semiannual federal well inspections that automatically include the necessary checklists.
Asset and Equipment Management
An organization's assets are a large and costly financial investment. Keeping track of all your important assets and the ability to easily access Preventive Maintenance and repair work history associated with each asset can be critical. With CMMS software you can easily track assets and ensure their value by storing and sharing standard operating procedures, warranty information, operating manuals, schematics, insurance information, and other documentation related to each asset.
Safety
In today's world, there is very low tolerance when it comes to making mistakes relating to employees' safety and environmental accidents, and the Oil and Gas Industry significantly benefits from the tools offered by a CMMS. A CMMS provides users with the tools to manage work orders, maintenance and inventory to keep environments safe and equipment in top running condition. Moreover, a CMMS solution documents internal and external compliance standards.
Manage and Control Costs
With a CMMS, it is easy to manage and control all of your maintenance operations and optimize your inventory costs.
Manage maintenance budgets for expenses such as labor, parts and miscellaneous costs for completion of work orders, replacement of equipment at the end of the asset lifecycle, track special projects, spot buys and purchasing. Having a CMMS contributes to your bottom line by reducing expenditures and increasing the lifespan of critical assets and equipment through automated maintenance.
Labor Management
Time tracking is a critical component of CMMS software. It factors into labor availability, reporting, costs on work orders, etc. Labor costs are only one factor that contributes a big part of running a business. Work orders in a CMMS capture critical information about a whole range of variables beyond labor hours, such as, expertise and required skill level (e.g., tier 1, tier 2, tier 3, etc. support); asset identity and location of nearest qualified technician; as well as repair parts consumed, specialty tools borrowed from inventory, and specific type of work performed by whom; and any contracted service and parts vendors used.
Inventory and Spare Parts Management
CMMS software gives maintenance departments and organizations accurate records on inventory and spare parts. This is especially helpful with expensive and hard-to-find parts, and the need to have parts stocked at every facility within a company. Having control over inventory and spare parts results in real cost savings. Managers no longer have to store parts at every facility, because with CMMS software, they can quickly and easily search throughout the Company's inventory to find the needed parts and have instant access to them.
Reports and Dashboards
Maximize asset performance through analytics, dashboards and reports that quickly show key performance metrics including the health of your assets, maintenance costs, Preventive Maintenance compliance, equipment downtime and inventory with drill-down capability to spot areas of concern and swiftly have access to the details.
Mobile Access
Access to information via CMMS software is available from anywhere at any time through a computer or mobile device. Users access real-time data and perform functions throughout any facility, plant, or campus while "on the move," including completing service requests and work orders, checking on inventory parts and supplies, all while having immediate access to asset documents such as information plates, manuals, schematics, warranties, etc. Productivity rachets up, job satisfaction rises, costs come down and profits grow all because "mobility" is key in today's world!
Regulatory Compliance
CMMS software provides the tools that help organizations easily meet internal and external audits and regulatory compliance standards. Users streamline repair processes, automate Preventive Maintenance tasks, document repair history, and improve uptime, performance, efficiency, safety and longevity of assets. Key Performance Indicators (KPIs) and metrics demonstrating compliance are available immediately and are easily reported on. CMMS software provides maintenance management tools necessary to keep equipment and the work environment safe, reliable, and compliant.
Want to know more about how a CMMS can streamline your processes?
CONTACT US FOR A FREE DEMO
YOUR SUCCESS IS OUR GOAL!