Give Your Campers The Best Camp Experience
In preparing camps for opening, one of their primary concerns is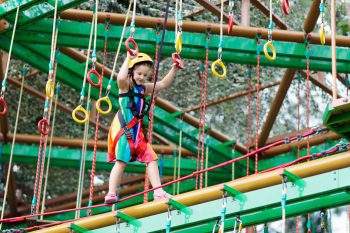 meeting the COVID-19 guidelines, and the health, safety, and welfare of their campers, customers, user community, and employees. CAMPs are continuing to work quickly to meet extensive guidelines and provide the high level of support that their customers expect.
From maintaining buildings, equipment, and acres of property packed with outdoor adventure activities and programs, there is a lot to maintain and keep track of to ensure the safety of campers and guests. Keeping things running smoothly, ensuring that areas and equipment are safe, having the ability to manage work orders, and ensuring that work orders are all being taken care of and responded to quickly, is extremely important. Having a system that is reliable, easy to use, and accessible from anywhere, and is reasonably priced is a must.
Mastering the Maintenance Challenge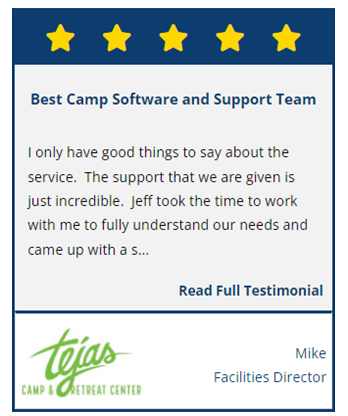 Running a camp you face a lot of challenges every day in keeping up with everything that needs to be maintained or repaired throughout the campus. Managing everything through spreadsheets, note-taking on small bits of paper, writing on the palm of your hand or whatever is convenient to write the message on can cost you time, money, and safety issues. When you are managing so many buildings, equipment, and grounds, the risk of overlooking requests for repairs can prove detrimental to the camper experience. Using this disorganized means of managing the camp facility is inefficient and it is easy to forget things. So what is the best and most affordable way to manage all of these things? Computerized Maintenance Management System (CMMS) software. CMMS software provides a centralized system that is packed with very easy-to-use features that improve maintenance operations, increases productivity, and helps improve safety.
Camps must be simultaneously fun, clean, and safe for visitors and employees. Grave consequences are likely for not keeping regular maintenance schedules for equipment and vehicles, for not maintaining the site, outdoor recreational features, and activities, or improper handling of repairs within the property.
Camp Maintenance Software Solution
In order to have a camp running efficiently, it's imperative that you set up a solid foundation with camp management tools to effectively help you to grow. Many camps and other similar organizations depend on maintenance management software to assist them with the many processes and procedures that must be followed.
Computerized Maintenance Management System (CMMS) software helps organizations streamline processes and helps manage all of their maintenance tasks and helps keep camps running more efficiently at an affordable price. Implementing CMMS software is quick and easy. Once you are ready, working with eWorkOrders, you can be up and running within a day!
Benefits of Using CMMS For Camp Maintenance
Reduce the chance of losing papers and keeping on top of tasks. With all of the information on your equipment and assets stored in one centralized system, you and your staff can access the data in real-time from anywhere.
Manage resources more efficiently. Maintain employee training certifications, technical expertise, and other information, to ensure that the right employee with the appropriate skills and knowledge can effectively be utilized to respond to specific emergencies.
Managing all of your information using CMMS web-based technology. Managing all of your data in a web-based CMMS means that all of your information pertaining to your assets and equipment is always available and up-to-date, no matter where you are.
Hundreds of extensive and detailed reports. Our reporting feature provides hundreds of reports to help you easily manage and extract your data stored in your CMMS and generate comprehensive reports to meet state and government regulations.
Effectively communicate with staff. With the streamlining and centralizing of maintenance communications, you can eliminate a huge amount of emails, phone calls, and running around looking for employees, which saves time that can be diverted to more productive activities.
Ensure the safety of your campers. Having one centralized system is especially crucial if your program works heavily with children. With CMMS software, all safety issues can be quickly reported and addressed in real-time. With the ability to upload images and access documents, maintenance teams can concentrate on fixing the problem immediately and not waste any time.
Dealing with all the processes and tools within camp environments, CMMS is the perfect solution to effectively manage your entire maintenance program, campers, and staff.
Safety and Compliance Regulations
Today, states vary significantly in their oversight of camp operations and require a system that is broadly applicable and easy to update. In many states, camps fall under the jurisdiction of the state health department, which has set up guidelines for camp operations with added processes and guidelines to lower the risk of COVID-19 exposure and spread. Preparing for these audits and inspections is easily performed through a CMMS.
With a CMMS camps can identify the procedures and processes that need to be done to meet compliance regulations, by setting up tasks within their CMMS software that must be followed. From identifying and scheduling workers, keeping historic repair information, to the tracking of preventative maintenance schedules, tasks, maintenance frequency, manuals, notes, instructions, tools/parts needed, and more. Tracking, documentation and reporting of safety specifications are all maintained into a centralized CMMS database, accessible from anywhere at any time.
Results
CMMS software improves the management and organization of work orders, keeping camps running more efficiently. With eWorkOrders organizations can save time, money and empower their staff and others to put work orders in immediately. Get notifications in real-time when work orders are completed.
With the easy-to-use interface, everyone feels comfortable submitting a request, and the option to use a mobile device makes the team's team more productive.
Having complete control over work orders gives maintenance managers the ability to prioritize and re-prioritize work orders so that can be more responsive to urgent requests. With the ability to access documents and manuals from anywhere, they have all of the information they need to repair equipment right on the spot. The ability to take pictures and include them in work orders makes it quick and easy to identify and communicate unsafe areas or issues.
Using the CMMS preventive maintenance feature helps keep equipment up and running and in good shape, and it also gives them the ability to schedule maintenance during a time-frame that is convenient with their schedules.
Summary
Accidents and injuries are quite common throughout any facility. Having the right tools in place to help you more efficiently manage processes and procedures, maintain assets and your environment, reduces the risks of accidents and injuries. Such tools, like eWorkOrders CMMS, helps ensure that campers, employees, and assets are kept safe and are protected.
eWorkOrders state-of-the-art CMMS helps camps and other facilities to efficiently manage all of their maintenance operations including equipment, grounds, resources, parts inventory, expenses, safety, regulatory compliance while improving efficiency, the bottom line, and giving campers the best experience.