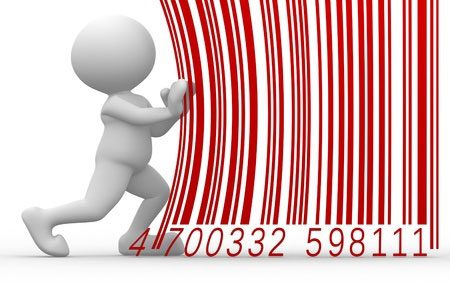 Barcodes have primarily been captured by using highly expensive and effective dedicated scanning devices. With the evolution of mobile technology, you can now move to a user-friendly and easy-to-use software-based solution to manage your inventory and assets.
Whether you are using a barcode scanner or a smart device, incorporating barcode technology into eWorkOrders CMMS solution, you can easily manage your entire maintenance operations from one centralized system.
Barcoding and CMMS
Barcodes link work orders, spare parts inventory, purchase orders, assets and equipment. Barcode scanning allows for data to be entered in real-time, preventing very costly mistakes and human errors. Incorporating barcode scanning into a CMMS provides technicians with the tools to enable them to work faster and more efficiently from anywhere.
Barcoding – Asset Management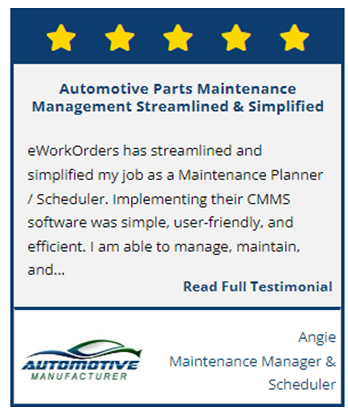 Using CMMS software with your barcode scanner or mobile device, all records pertaining to assets are located in one centralized system and available at any time. From work orders, inventory, maintenance schedules and other critical information technicians can easily locate all of the information they need about an organization's assets.
Having your information stored and easily accessible in one location reduces the risk of technicians putting in the wrong numbers, reducing man-hours, increases efficiency and productivity.
Barcoding – Inventory Control
With spare parts and supplies moving in and out of inventory consistently, it can be challenging to keep track of inventory levels. The thought of not having a part in stock and disrupting business operations can be devastating.
Labeling your inventory with codes that are stored into your CMMS gives organizations the ability to use barcode scanners to quickly manage your inventory. CMMS gives users the ability to analyze inventory trends and establish maximum and minimum stock levels, manage vendor costs, and automate processes. eWorkOrders CMMS is ready to work with your handheld computers with barcode scanners to make the job of controlling and tracking the flow of materials in and out of your inventory as convenient as possible.
Barcode Scanning & Data Collection Benefits
Barcode scanning can be used in any size business, throughout any industry. Some of the benefits of eWorkOrders CMMS Mobile barcode scanning solution including
Conclusion
eWorkOrders computerized maintenance management system (CMMS) is a powerful software solution to help organizations manage preventive maintenance, inventory, assets, equipment and more. By incorporating the barcode solution into a CMMS, you'll further enhance your ability to streamline processes, increase productivity, extend the lifespan of your assets and lower your overall maintenance operations costs.
The management of your assets, equipment and inventory are important to your organization. Incorporating barcode technology with the power of a CMMS gives maintenance teams the tools they need to effectively manage your maintenance operations.