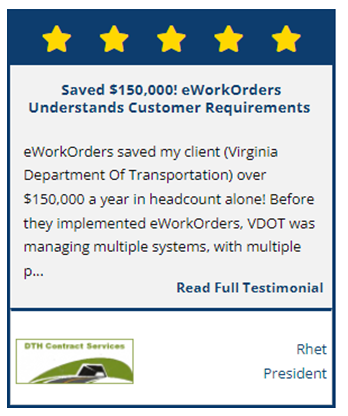 Safety First! No matter what kind of maintenance operations you do, safety is the most important part of your job.

The responsibility of a maintenance manager is huge! Along with maintaining assets and making sure that they are safe and running at peak performance, they have to ensure that their environment is safe as well. Improper maintenance results in a risk to the operators of equipment\machines and employees in the area, which may cause work accidents of varying degrees of severity.

A Computerized Maintenance Management System (CMMS) offers a huge variety of benefits and tools for streamlining the maintenance management processes for improving the performance of assets, environment and daily operations.

Below are just some of the ways that a CMMS can help you manage your maintenance operations, keep equipment and assets running at peak performance and help guarantee the safety of your operations.
1. Creating a Safer Environment
The first thing to ensure a safer environment is having equipment and parts stored in a place that is out of the way of workers and is easy to find. When the environment is not cluttered and equipment and tools are in their proper place, the risk of accidents, injuries and other safety issues are lowered.
Computerized Maintenance Management System (CMMS) software gives organizations the ability to map out all of the assets in their facility, documenting the location of all equipment, including drawings, safety or hazardous notifications and any other information that pertains to their assets.
2. Safety and Compliance Regulations
Most organizations have safety and compliance requirements or regulations that they must follow for their facility, equipment or grounds. Preparing for these audits and inspections are easily performed through a CMMS.
With a CMMS organizations can identify the procedures and processes that need to be done to meet compliance regulations, by setting up tasks within their CMMS software that must be followed. From identifying and scheduling workers to the tracking of preventative maintenance schedules, tasks, maintenance frequency, manuals, notes, instructions, tools/parts needed, and more. Tracking, documentation and reporting of safety specifications are all maintained into a centralized CMMS database, accessible from anywhere at any time.
3. Tracking and Scheduling of Employee Training and Certifications
The importance of ensuring that your environment and assets are safe depends on having a properly trained maintenance staff to complete safety tasks. It's important for everyone to be properly trained in the safe use of equipment, and any potentially identified hazards that they might be exposed to.
Storing of training and completion dates, licenses and certifications are easily done within a CMMS. Within a CMMS you can define and schedule specially trained staff members to perform specific maintenance tasks, record safety requirements for equipment or the facility, and create and schedule work orders for the completion of each safety task when due.

4. Centralized Database of Information
Having a safety plan in place and assets identified is the next important step to maintaining all of this information in a centralized database that is accessible from anywhere at any time.
A CMMS is a centralized database that stores all of your resources, SOPs, Videos, drawings, documents, materials, work orders, notes, and other information with access from a computer or mobile device, anywhere at any time. Communications and notifications can be shared with workers in real-time.
5. Preventive Maintenance and Safety
Managing your preventive maintenance tasks through a CMMS keeps equipment and assets running more efficiently, resulting in fewer breakdowns and unexpected repair costs. This results in operating safer equipment in a safe work environment.
The tracking of assets through CMMS software can help define safety schedules and create work orders as needed. Using CMMS software to manage preventive maintenance tasks, spare parts inventory and track work orders creates a historical life cycle record to help meet safety requirements. Additionally, keeping track of employees, time spent on repairs, condition or causes of equipment failure found, improvements, and expenses, will help to minimize future issues.
6. Tracking and Reporting
The key to any safety plan is to be able to pull all of the pertinent documentation together so that data can be analyzed and processes can be modified to further improve safety compliance.
With eWorkOrders CMMS information is stored in a centralized database with the ability to easily create reports, graphs or dashboards with real-time data from anywhere.
In Conclusion
Accidents and injuries are quite common throughout any industry. Having the right tools in place to help you more efficiently manage processes and procedures, maintain assets and your environment, reduces the risks of accidents and injuries. Such tools, like eWorkOrders CMMS, ensure that workers and assets are protected.
eWorkOrders state-of-the-art CMMS helps organizations to efficiently manage all of their maintenance operations including equipment, resources, parts inventory, expenses, safety, regulatory compliance, while improving productivity, efficiency and the bottom line.