Medical Center




 Improved Hospital Maintenance




and Customer Satisfaction
Overview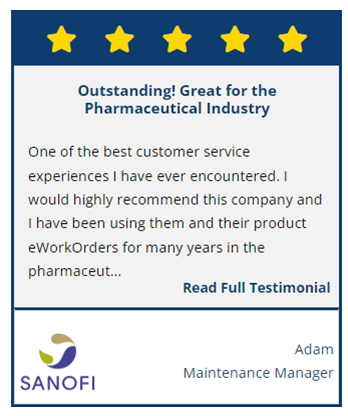 Customer manages a group of medical facilities based out of various cities and states.  Their maintenance/plant operations department services three hospitals and needed a system that was easy to use and available 24/7.  eWorkOrders CMMS software gave their team the ability to streamline maintenance requests, work orders, inspections, and preventive maintenance solutions and offered many more features.  With eWorkOrders CMMS solution, they have been able to respond quickly to their customers' requests, maintain equipment, schedule maintenance, reduce costs, access reports and improve communications.
Business Challenge
Medical facilities constantly need to maintain a clean, safe and healthy environment.  Maintenance plays a major role in keeping the hospital facilities running in an orderly fashion.  Managing the maintenance for several hospital locations can be a challenge. To ensure the safety of the staff and patients, they needed a centralized system that could help them manage planned preventive maintenance on the assets for each facility, plus keep track of work requests.  The system needed to be uncomplicated, fast, and easy to use.
A lot of systems that they looked at were very complex and not user-friendly. After reviewing other CMMS solutions, they found eWorkOrders CMMS to have the most flexible interface with exceptional support at an affordable price.
Implementation
They commented, that "the eWorkOrders team was very responsive and helpful in getting the system up and running very quickly.  The system allowed the team to organize and monitor daily routines and provide accurate, up-to-date information for responding to an emergency.  Data is maintained and easily accessible to support longer-term planning for operations, annual maintenance schedules, and deployment of personnel and budgeting for replacement equipment, consumables, and maintenance supplies.  In the maintenance department, they installed a large screen TV, so that they can see the real-time requests and status of work orders."
Results
eWorkOrders CMMS software was able to be implemented immediately, giving them the ability to instantly respond 24/7 to work orders, manage preventive maintenance, view the status of previous work orders and provide in-depth reports to meet their requirements.  Customer satisfaction has gone up due to the fact that problems were resolved faster than a phone call.  When a request was put into the system, immediately a text would go to a technician so that there was no time wasted.  Customers love the automatic email communications that informed them that issues have been resolved and technicians loved the fact that they didn't waste time tracking people down to give them a status.
Working with eWorkOrders Team
This was the easiest system they have ever implemented.  They said that "working with the eWorkOrders team was a pleasure, implementation was done quickly, met all of their requested specifications, lots of features and access to lots of reports.  From the first phone call with eWorkOrders to implementation, there is no company better than eWorkOrders. They are professional and are willing to work with you to give you the best use of the software and to give you the greatest experience".
*As a courtesy to our customers, we do not publish their company names, but the actual case studies are available upon request.