Computerized Maintenance Management System (CMMS)
Today, businesses are looking for more efficient ways to manage their maintenance operations.  The goal of this article is to provide you with an overview of computerized maintenance management system (CMMS) software and help you in your decision-making process.  We will give you a brief description, an explanation of how it fits into your workplace, the benefits and features that CMMS can bring to any size company throughout any industry, and more. 
What is a CMMS?
Computerized Maintenance Management Systems (CMMS) is software that provides facilities and maintenance managers with the tools to organize and track everything from work orders, assets, equipment, preventive maintenance, inventory, workflows, safety compliance, teams, expenses, and other processes.   The overall objective is to streamline processes, improve workflow, manage costs and increase efficiency in maintenance operations.
What is CMMS used for?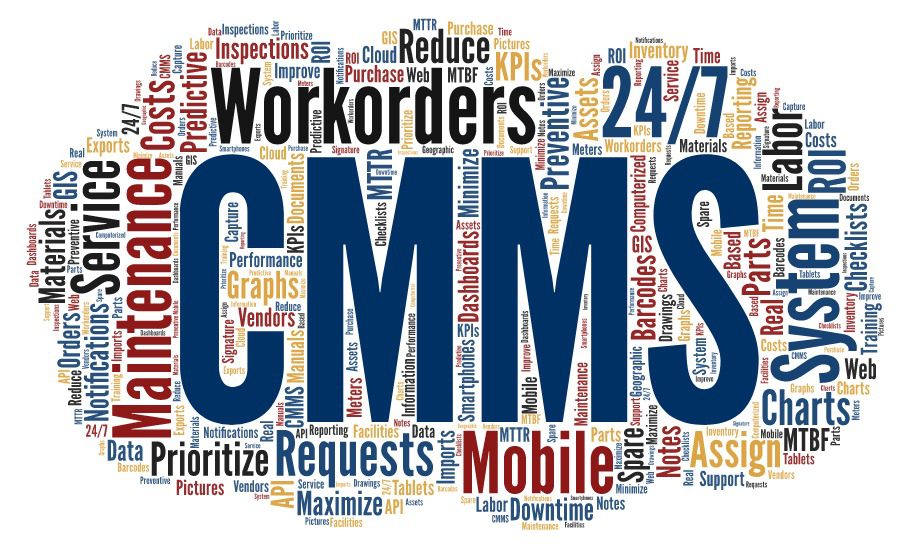 Computerized Maintenance Management System (CMMS) software is designed to help maintenance and facilities teams manage their daily tasks more efficiently.   CMMS software is used throughout all industries.  Any organization that needs to perform regular maintenance on equipment and assets, track and manage work orders and inventory, and need an accurate reporting structure to be compliant, are organizations that can benefit from this software solution.  A CMMS helps organizations optimize their maintenance operations, and gain better insights into their maintenance and facilities operations, trends, and costs.
Types of CMMS
There are two common types of CMMS software: Web-based (also known as Cloud-based) and on-premise CMMS software.
Web-based CMMS (Sometimes Referred to as Cloud-based CMMS)
Web-based CMMS software, the client's database is hosted on the vendor's server and accessible via the Internet.  The provider manages all of the IT, hosting, security, backups for the system, and the software is updated automatically, so you're always using the latest and most secure version.  Web-based CMMS solutions are easier to implement, easy to scale up and down and easy to manage.  Security is included with the web-based solution, and the system is updated automatically by the vendor.  
Web-based CMMS is usually a monthly or annual subscription.
On-Premise CMMS
An on-premise CMMS is a software that is installed and runs on your company's server, and is accessed over your internal network.  You have full responsibility from the purchasing of the equipment to the execution and beyond.  You will need to provide the IT infrastructure to run the CMMS software on, configure the network to enable user access, and install any upgrades or security patches.  You will also be responsible for your own backups, security, setup, licenses (if applicable), integration & support costs (which are usually very expensive).  Installing upgrades can be a complex process.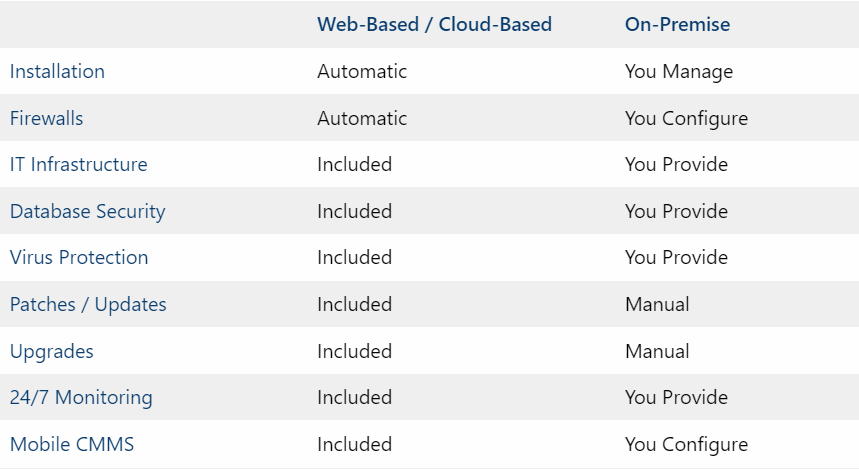 Users and Industries
In every industry there are work orders that need to be responded to and managed, assets and equipment need to be maintained, preparing for inspections, managing vendors, expenses and the list goes on.  No matter what industry you are in, or the size of your company, maintenance needs to be done.
Below are just a few examples of how CMMS is being used within some industries today. 
Manufacturing:   CMMS software is an ideal choice for manufacturers that want to improve equipment uptime, automate their maintenance management operations, and maximize ROI (Return On Investment).  A CMMS provides the tools to automate everything – from work orders, maintenance scheduling, asset/equipment management, vendor management to more accurate reporting for budgets and regulatory compliance.   
Warehouse and Distribution:  In this industry, it is important to have the right tools to help manage the content and assets of the warehouse, employees and schedule repairs and preventive maintenance, inventory, and other critical tasks. Warehouse managers are also responsible for ensuring that the strict requirements for routine regulatory inspections, as well as safety and compliance audits, are followed.  A CMMS has the tools to manage assets, maintenance tasks and schedules.  The web-based inventory management system helps eliminate inventory surplus, insufficient stock, unmanaged and unorganized storerooms that can incur extra expenses if not managed properly and be roadblocks to achieving maintenance operations efficiency.  Tracking information from a centralized system makes it easy to run reports to ensure that all tasks have been completed and meet inspection and audit requirements. 
Facilities:  A CMMS helps minimize maintenance costs, increase asset life, improve productivity, reduce equipment downtime, and lower the total cost of ownership of assets.  By accessing the CMMS applications through a computer, Smartphone, or mobile device, facility managers can organize and manage all of their tasks from anywhere.  Some advantages of computerized maintenance technology include saving admin time and having real-time insights into facility efficiency. Facility managers find that the main advantage of CMMS software is streamlining overall work order management processes.
Healthcare: CMMS software gives the tools to healthcare workers so that they can concentrate on taking care of people, without agonizing over day-to-day details like asset repair history, preventive maintenance, and inspections.  These tools allow the maintenance team to stay on top of repairs and preventative maintenance scheduling to ensure that generators, emergency systems, and HVAC equipment is working efficiently and meeting compliance regulations.
Food Industry:  With the rapid growth and expansion of restaurants and fast-food franchises, they face a lot of challenges in optimizing their maintenance operations to meet the demanding needs of their customers and strict industry guidelines and regulations.  CMMS software provides the tools to help manage maintenance programs, maximize the life of assets, reduce equipment downtime, manage documentation, and control processes. It also helps organizations adhere to strict health and safety compliance regulations, all while managing and controlling costs. 
Property Management:  Property managers need to manage both the properties they own and the people who lease them.  CMMS software makes the balancing act a breeze with 24/7, automated communication features, manage maintenance scheduling, service requests, work order requests, purchase orders, mobile capabilities, customizable checklists, be better prepared for inspections and audits.  The asset-tracking will help in capital planning, making it easier to plan and budget for repairs and replacements.  
Oil & Gas:  Because this industry provides the energy that is used in transportation, households, and manufacturing around the world, they cannot afford to have any disruption in their operations.  This industry needs a state-of-the-art maintenance solution to optimize asset utilization, maximize production levels, reduce downtime of high-cost equipment, improve safety and ensure a flawless operation. CMMS tools help them manage work orders, inventory, assets, and equipment, along with reports to help them analyze asset performance and a whole lot more.
CMMS vs EAM: What is the difference?
Computerized Maintenance Management System (CMMS) is a software solution whose purpose is to manage the maintenance work necessary to extend an asset's usefulness and profitability.  CMMS objectives include streamlining and automating maintenance tasks and activities, eliminating unplanned downtime, increasing productivity, extending asset lifespan, helping maintenance and technical workers be more effective and accountable, supporting operations management with decisions about preventative versus reactive maintenance, and ensuring internal and external occupational and environmental safety and regulatory compliance are met. (CMMS vs EAM)
Enterprise Asset Management (EAM) software has more functionalities than a CMMS.  EAM system capabilities include those of a CMMS but EAM focuses on the entire lifecycle of the asset.  EAM functions include asset planning, retirement, and replacement of an asset.  The EAM software provides additional functionality to support the needs of other departments beyond maintenance.  As an example, EAM software can be used to track finances related to assets such as depreciation, accounts payable and receivable, invoicing, and more.
CMMS Key Features
CMMS vendors may offer different tools for users, but almost any CMMS software package includes:
Service Requests (also known as Work Requests):  A service request is a request for work that needs to be performed on an asset.  The service is quick and easy to fill out and can be submitted by maintenance managers, supervisors, tenants, and customers.   Users can enter service requests and monitor the progress of their requests through a portal as workers complete repairs.
Work Orders:  A work order is a formal request for maintenance, repair or tasks that need to be done.  Work Orders may be a request for repair, restoration or replacement of equipment or an asset.   Work Orders can be generated by a customer request, internally within an organization, as part of a regularly scheduled maintenance program, or created as a follow-up to inspections or audits.
Asset Management:  Track all your important assets and have the ability to easily access work history associated with each asset.  Maintain asset values, standard operating procedures, warranty information, schematics, images, and other documentation related to each asset. 
Preventative Maintenance (PM):  Preventive maintenance is routine maintenance that is regularly performed on a piece of equipment to keep it running at peak performance, reducing downtime equipment failures and expenses. Incorporating CMMS software into your maintenance operations program provides you with the tools to effectively plan and schedule maintenance on equipment before problems occur.  Using CMMS for preventive maintenance keeps historic records of repairs, for easy inspection and audit preparation.  
Reporting:   Reporting tools give you the power to assemble the data you have been collecting within your CMMS and transform it into reports that are meaningful to you and others in your organization.  eWorkOrders offers a wide variety of reports that helps users to better understand what is working and gather insight on what can be improved to increase efficiency and reduce costs.
Mobile:  The mobile version works on any brand of Smartphone or tablet. You can scan barcodes, and search to retrieve asset details and work order history. You will be able to access inventory, spot buys, view, open, and close your work orders, track your time, or search through all the work orders, all in real-time.
Additional core and advanced features are offered by eWorkOrders, visit the website for full descriptions.  Read more..
Enterprise Features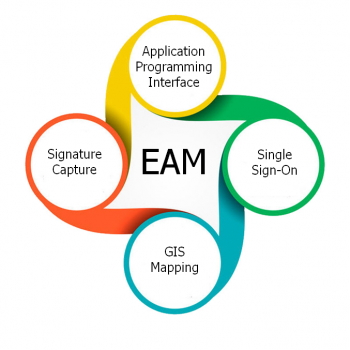 Below are a few of eWorkOrders Enterprise features. Please note that not all vendors offer the same features.
API (Applications Programming Integration):  API creates interoperability between internal apps and other data exchange tools to manage the flow of information between systems.  Whether importing data directly from machine sensors or exporting data, our eWorkOrders API allows you to unlock the full power of your business assets and infrastructure.
GIS Mapping:  Geographic Information System (GIS) technology, is used to track assets and work orders.  This is beneficial when you have to manage a high volume of work and responding to a crisis that relies on the geographic information system that can efficiently gather, store, share, manage, analyze, and deliver data on-demand for a streamlined workflow. With the eWorkOrders GIS module, you can streamline inspections and maintenance workflows and implement predictive maintenance strategies.
Signature Capture:  Signature capture allows you to set up different types of electronic sign-offs.  Create different statements for people to electronically sign. For example, customers can sign off granting permission before starting work or verifying work was completed satisfactorily when closing out a work order. Signatures can be captured along with the statement they are signing off on and other pertinent information. Once signed off, they automatically attached to the work order they related to.
Single Sign-on:   Single Sign-On (SSO) provides many advantages for corporations that are seeking to eliminate the huge amount of passwords that are used to gain access to websites across the internet and even within a corporate internet.  Users can log into their computer once in the morning and they have immediate access to all of their information in eWorkOrders.
Additional enterprise features are offered by eWorkOrders, visit our website for full descriptions. Read more..
Key Benefits
No matter how large or small your business is, CMMS software has a big impact on how companies manage their maintenance operations. 
Increased productivity.   The CMMS centralized system gives maintenance teams direct access to work orders, asset locations, inventory, documents, manuals, and more from a computer, Smartphone or mobile device.
Improved workflow and reduced backlog.   Less backlog due to better planning, organization, scheduling, and management of resources.
Prolong assets and equipment lifespan.  Proper maintenance extends the lifespan of assets, reduces downtime, optimizes performance, reduces repair expenses, and improves reliability, which leads to an increase in ROI.
Less disruption in business operations.   Planned and preventive maintenance schedules can be done at a time that is more convenient with business operations. 
Reduced labor costs.  Having better control over resource scheduling reduces unnecessary overtime, and provides the ability to schedule skilled technicians.
Spare parts and inventory control.  Set minimum and maximum inventory spare parts and stock levels, so that when the minimum quantity is reached a Purchase Order will automatically be generated and sent to vendors for replenishment.  Reduces unnecessary costs and downtime.
Document management control.  Store and share documents, manuals, pictures, videos and other information into the CMMS centralized system.
Access from anywhere.  24/7 access from a computer, Smartphone or mobile device.
Risks and accidents are reduced.  Properly maintained assets\equipment reduces the risk of accidents, injuries, and minimizes the loss of work time and disruption in business operations.
Better control of budgets and expenses.  With a CMMS you have more control over maintenance budgeting for expenses such as labor, parts and miscellaneous costs for the completion of work orders, and replacement of equipment at the end of its lifespan.  
Increase in customer satisfaction.  A CMMS gives you a better view and control of your maintenance operations.  Keeping assets/equipment running at peak performance provides a better customer experience.
Compliance and audit preparation streamlined.  The data-tracking capabilities in a CMMS make streamline the data to generate accurate reports for inspections and compliance regulations.
Quick reporting and analysis.  Data can be pulled quickly and effortlessly from the CMMS for analysis.  Accurate and reliable reporting helps organizations spot critical weaknesses, so solutions such as regular inspections, preventive maintenance, or spare parts can be put in place to proactively reduce downtime going forward.
Measurement of success.  CMMS solutions allow companies to collect maintenance information, turning historical data into insights for an in-depth understanding of how well their organizations are doing.
Conclusion
The main objective of implementing a CMMS is to optimize your maintenance operations, help manage and keep track of maintenance activities, prolong asset lifespan manage and control expenses.  A CMMS keeps track of all maintenance activities, improves accountability, decreases business disruption due to equipment downtime, keeps historic information on repairs and issues for better preventive maintenance scheduling, and provides a better distribution and management of resources.  With the inventory control feature, businesses save on purchases and losses.  With the automation of processes and procedures, you can ensure that your maintenance operations will always be operating more efficiently. 
eWorkOrders CMMS Software Solution
If you're new to this technology, have questions?  Don't worry.  With eWorkOrders, we are here to answer your questions and we are with you every step of the way.  We provide training, online videos, technical support and your account manager is always here to help you at any time.   We treat our customers like family.
Want to know more?  Have questions:  Schedule a free demo now to see how CMMS software can optimize your maintenance operations.
See what our customers have to say:
Note:
Not all vendors offer the same CMMS and EAM packages.  Thus, it is important to work with your account manager to discuss your needs and objectives to come up with a solution that best fits your requirements.