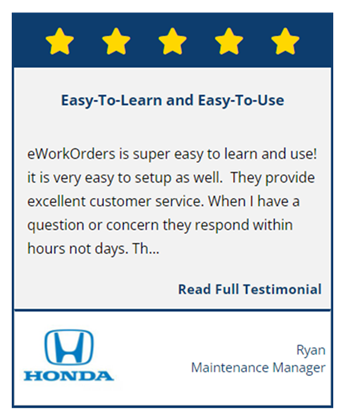 One of the main challenges that most manufacturers face today that impacts an organization's bottom line is equipment downtime. Some of the issues that this can cause include:
Delivery of services to customers

Lost production time

Unexpected expenses of emergency repairs

Missed work orders

Incomplete work orders

Loss of asset historical data

Overstocked or understocked spare parts inventory

No team collaboration

No mobile access
CMMS software is designed to help manage all of these tasks, improving manufacturing maintenance processes, reducing costs and more, in one centralized system. Accessing and managing real-time information from a computer or mobile device increases efficiency and productivity.
Equipment Performance
The main objective is to keep equipment running at peak performance. This involves the necessity of having a good preventive maintenance plan in place. With CMMS you can build preventive maintenance schedules, assign qualified resources at your convenience, reducing the likelihood of equipment failure and disrupting business operations.
Through a calendar-based Preventive Maintenance (PM) module, users have the ability to easily view and manage all of their tasks.  Managing schedules in accordance with the manufacturer's recommendations, having access to historical records and performance, being able to track the time spent on tasks can significantly improve maintenance operations.
To ensure that tasks and checklists have been properly followed, automated approval processes can be put in place. Having an approval process in place ensures issues or missed tasks can be caught before the potential of jeopardizing the work.
CMMS is one of the most beneficial tools to help you streamline processes and take the worry out of routine tasks and letting you focus on more critical issues.
Improving Work Orders
Not having a system in place to effectively manage work orders, can cause manufacturing organizations some of the following problems:
Overlooked work orders

Scheduling of workloads

Mistakes

Disorganization

Duplication

Scheduling issues

Inventory levels

Low stock of supplies and materials
Effective management of work orders within a manufacturing organization is critical to the overall production and operations of the organization.  It is important to have a robust system in place for production managers, technicians, and other personnel to easily submit a maintenance work order.
Work orders contain detailed information and can track maintenance work time, expenses, capture notes, attach documentation, upload images, and can be closed-out from anywhere. Using a CMMS to manage work orders and tracking can be a seamless part of your operations.
Managing Assets
Enterprise Asset Management is the process of managing, tracking, and monitoring the company's fixed or movable assets. Manufacturers are one of the largest contributors to our economy, but also have a lot of challenges, such as:
Extending the life of assets

Asset Theft

Unexpected breakdowns

Maintaining asset history

Decision making for retiring assets

Keeping records for audits

Keeping equipment safe

And more…
Having a system like a CMMS to manage assets, addresses all of the above concerns and ensures that every piece of equipment is running at peak performance. With a CMMS historical and real-time information is stored in a central system that is readily available and easily searchable. The information can be easily analyzed to identify improvements and provide the necessary information to make sound business decisions.
Inventory Control
Not having control of your inventory can cost organizations a lot of money. Some of the issues that can affect your inventory management include:
Time spent locating parts

Shipping expenses for hard to find parts

Duplication of orders

Inventory not identified

Managing inventory levels

Obsolete inventory

Overstocked inventory

Under stocked inventory

Manual inventory cycle counts
Every piece of equipment and every asset has its own maintenance schedule.  Some of these schedules may be based on run time, repairs, etc.  A CMMS helps maintenance teams create preventive maintenance tasks and work orders based on the manufacturer's or organization's guidelines.  You can easily manage all of the above tasks to ensure that you can immediately repair a breakdown without incurring major expenses or prolonged business disruptions.
Managing Costs
The cost of equipment and facility management can run pretty high in businesses of every size, and managers or supervisors are always looking for ways to reduce costs. Even though it seems impossible to control expenses, it still has to be done. Some of the issues that cause the rise in unexpected expenses may include:
Machine failures occur without warning

Production lines go down

Managers chasing down parts

Managers trying to resolve issues

Managing employee time
All of these issues are controllable and can simply be managed through a CMMS. With extensive real-time and detailed reporting, you can access informative information to help you identify different problems with equipment, staffing and spare parts, and more.
Mobile
If your team is running back and forth from your shop or other buildings to check on which tasks or work orders they have, this is prolonging the time it takes for the repair to be completed and is costing you a lot of time and money. While the desktop-based CMMS allows users to easily access and manage the information you are still tied to a computer. When technicians have access to a mobile CMMS, they will see many benefits, including the following:
Work Orders can be sent to the technician in the field

Work Orders can be prioritized to accommodate emergencies in real-time

Ability to edit tasks

Create and send additional work orders

View current work orders

Access checklists

Access inventory records

Access asset history information

Documents, manuals, images, and more are easily accessible

Improves communications between maintenance teams

Improves Accuracy

Increases efficiency

Access from anywhere at any time
Reduce Regulatory Penalties due to Non-Compliance
Manufacturers have a lot of regulations that they must follow. This means that you have to be able to be ready during inspections to prove compliance was adhered to and that all of the processes were followed. Failure to comply with regulations can result in severe penalties.
How can a CMMS help you be ready for these inspections? A CMMS is a powerful system that keeps businesses compliant by documenting asset maintenance tasks to prove that you performed all of the necessary steps to be compliant. Being able to easily supply regulatory agencies with this information will help you to avoid those penalties and fines.
Summary
Maintenance management is an essential part of your manufacturing company. A maintenance management program ensures the long-term success of your maintenance operations by monitoring quality assurance, maintaining operational efficiency, and keeping assets operating at peak performance.  Improving operational efficiency contributes to revenue by decreasing operating costs and improving the quality of manufactured goods. 
In order to be successful, you need to invest in tools that will help improve productivity and efficiency.  Investing in a computerized maintenance management system (CMMS) is an essential system in helping to solve many of the problems and issues that manufacturers face today. For more information about how CMMS software can improve your bottom line, contact eWorkOrders today, get your questions answered and get a free demo!