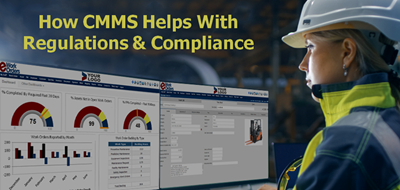 Inspections are a very important part of your business. Ensuring the safety and protection of your workers and meeting compliance standards can be frustrating and complex. Trying to get everything organized and prepared for safe quality food (SQF) EPA audits, OSHA and other inspections means a lot of work and a lot of your time trying to prepare.

With the increase in regulations, safety, etc., audits and inspections are not the same as they were in the past. Having an employee walk through the department with a spreadsheet looking for signs of problems is no longer efficient. Trying to manage processes and keeping everything organized and under control requires more than a spreadsheet, pencil and paper.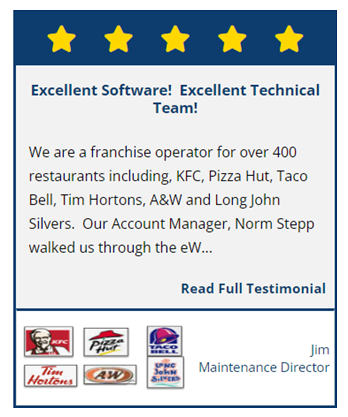 Having everything stored in and accessible in a centralized system has lots of benefits and makes preparing for inspections and audits a lot easier and less challenging. A computer maintenance management system (CMMS), can help you to easily organize, store, and quickly access audit-related documents in one centralized system and create detailed reports instantly to help show that you meet inspection and audit requirements. All of this can be done from a computer, smartphone or mobile device. And anyone on the team can do this no one needs to be an expert. It is that easy.
What CMMS Can Do
Every industry has its own specific guidelines, regulations and compliance standards that have to be met. The bottom line is being prepared and being able to accommodate these requests as quickly as possible.
A CMMS can:
Store and manage all of the information on assets and equipment to show evidence of compliance and demonstrate your efficiency in records management.

With CMMS, preparing for audits and inspections can now be done in less time. The instant retrieval of reports and access to records reduces the time spent looking for information in a file cabinet.

CMMS creates a document trail from purchase to retirement.

Standardizing processes reduces errors, and increases efficiency.

Using a CMMS helps organizations stay compliant, and avoid large fines.

Audits and inspections are completed faster, due to instant access to real-time information.
CMMS Prepares You for Audits and Inspections
CMMS software provides you with the tools to help you easily prepare for audits and inspections. Outlined below are a few benefits of using CMMS software that can help you prepare to pass compliance audits and inspections.
Standardization of Processes and Procedures
Having standard processes and procedures in place ensures that things are being completed on time to your satisfaction.
Audit Trail
By storing all of your information into a CMMS, you always have an audit trail that automatically logs all changes to work orders, including what specific changes were made, what parts were replaced, who made them, and when. All of your information is stored in a centralized system, which provides you with the necessary documentation to run detailed reports to satisfy audit and inspections requests.
Digital Signatures
The U.S. Food & Drug guidance document FDA Title 21 CFR Part 11 guides pharmaceutical, medical, and food and beverage industries, on the use of digital signatures. CMMS can help you prove compliance via digital signatures on work orders to show that you followed all the proper processes and procedures. CMMS gives you the ability to set digital-signoff permissions for work order processes and closures to ensure that requirements are followed. Having the ability to document work orders through the entire process and have the tasks digitally verified by the authorized employee will provide you with detailed documentation of compliance when audits and inspections occur.
Reporting
CMMS software usually contains built-in reports that show the most up-to-date information related to your equipment, maintenance activities (work orders), and labor. With most CMMS software you have the ability to customize the reports to meet your particular compliance audit or inspection needs.
The customizable dashboards gives you the ability to know how your maintenance organization is performing. Customize the dashboard to meet your organization's requirements and display audit regulatory compliance documentation right from your home screen.
Preventive Maintenance Tasks
To ensure that the proper processes and procedures are being followed, you can create preventive maintenance (PM) checklists within CMMS software to ensure that tasks are completed on time and to your organization's specifications. Some of these tasks may contain information that specifies the standard tasks or additional procedures for various jobs. Adding checklists to work orders, ensures that procedures are followed every time.
Employee Audits
Monitoring and keeping track of employee information for regulatory compliance audits is also important. With a CMMS you can store individual employee training and certifications, which can be quickly located when needed. A CMMS software gives you the ability to maintain more accurate health and safety information for your employees in one centralized location.
Security
eWorkOrders has an ongoing effort to maintain the security of our systems and our customer's data. We have utilized a third party, SecurityScorecard to analyze and continuously rate how well prepared we are at preventing cyber-attacks.
We are pleased to announce that we have achieved a perfect SecurityScorecard score of 100 on their scale of 0 – 100. This includes perfect scores in the categories. Read ore…
Amazingly, nearly every direct competitor of ours does not recognize the importance of cybersecurity and holds a D or an F in the Application Security category!
eWorkOrders CMMS & EAM Preparing for Audits
While compliance audits and inspections are typically scheduled, surprise audits and inspections are conducted to ensure companies are compliant at all times. With eWorkOrders CMMS, you are ensured that your data is secure and you will be prepared for your next audit or inspection. Schedule a demo today to learn how eWorkOrders can assist you with your compliance audits and inspections. Schedule a demo today.